News
June 14, 2019 (via CASAA Twitter @CASAAMedia) FDA submits response to lawsuit moving premarket application deadline. Watertown, Wisconsin treats vaping like smoking. Oregon lawmakers resurrect 65% vapor tax bill. Wisconsin budget vape tax greatly reduced by Committee. Researchers find youth vape use overblown by media. Like getting this timely information? Help CASAA continue its mission by donating HERE. IN THE NEWS: FDA …
Read More »
June 13, 2019 (via CASAA Twitter @CASAAMedia) Call to Action update in Ohio alerts members of new tax. City in Colorado that already has Tobacco/Vapor 21 and public use ban looking to regulate and tax more. Minnesota lawmakers busy protecting the cigarette market. Learn how media twists facts to support "vaping epidemic" claim. Like getting this timely information? Help CASAA continue …
Read More »
June 12, 2019 (via CASAA Twitter @CASAAMedia) FDA finally releases pre-market guidance for vapor products. Lawmakers in Aspen, Colorado ban flavored low risk alternatives; municipalities in Connecticut and Minnesota pass Tobacco/Vapor 21. Heads Up for Tobacco/Vapor 21 in Benton County, Minnesota. Researchers warn smoke- and vapor-free laws in public housing may do more harm than good. Like getting this timely information? …
Read More »
Mississippi Calls to Action (Current)
If no results appear in the box below, there are no current Calls to Action for your state. To see past Calls to Action for your state, please click here to see the Archived Calls to Action section.
Check out the 2019 States Legislatative Calendar to find out when your state legislature will be back in session! State Regular Session Start Regular Session End House Bill Intro Deadline Senate Bill Intro Deadline Crossover Deadline Special Sessions Alabama Mar 5, 2019 Jun 17, 2019 26th Legislative Day 26th Legislative Day 27th Legislative Day Mar 6, 2019 – Mar 13, …
Read More »
(Update – 09.20.17) Last night, a small handful of advocates and business owners were able to mobilize on short notice and speak in opposition to Starkville's proposed ordinance to treat vaping like smoking. The debate among city aldermen focused on which version of the ordinance they should move forward with–one criminalizes possession for <21, and the other does not. No …
Read More »
8 Quick Tips for Consumer Advocates
Members often ask "What can I do to help?" Member involvement is the KEY to CASAA's success! Read on to discover how easy it is to be a Consumer Advocate for Smoke-free Alternatives:
Get to know your lawmakers and where they stand on important issues. Put together a list of contact information for your local lawmakers. (CASAA has provided state and national contact info on this page.) If you can, set up a face-to-face meeting to express your concerns. Otherwise, call or send a letter or email.
Sign up to track legislation and agenda topics in your city, county and/or town. Many municipal web sites now let you subscribe to get email or text alerts if legislation is proposed for certain keywords. Sign up for keywords such as: tobacco, smoking, vaping, electronic cigarettes, e-cigarettes, ENDS, vapor products, tobacco products, and cigarette. If you cannot find how to sign up for these alerts on your community's website, call the city office and ask someone to walk you through it. You will then receive notification when a committee or board puts a related item on their agenda or if a new law/ordinance is proposed.
Share CASAA "Call to Action" links on social media. Share on your own Facebook, Twitter, Instagram etc., account, but also share to local advocacy group, fan group and vendor accounts, as well.
Complete the Call to Action. Sharing the Call to Action is great, but also make sure to follow through and send an email or call, too!
Show up to hearings and meetings. Even if you don't feel comfortable speaking, you should be able to fill out a form about your position on a topic or be counted as one who opposes/supports a law or ordinance. Just being physically present can make a huge impact when many people show up to show their support for those speaking. Be sure to dress and act in a business-like manner, respecting the rules of the proceedings and others in the room.
VOTE! Get out and vote for lawmakers who support your views.
CASAA cannot possibly monitor every municipality in the country without member involvement, so it is vitally important for CASAA members to watch their area and alert CASAA staff when they find out about a proposed hearing, meeting, law or ordinance. Email us at [email protected] with all of the information you have regarding the municipality, the law or ordinance being proposed, and the time and place of the meeting or public hearing. The more information you can provide, the faster and the more likely CASAA is to issue a Call to Action. 
Don't keep CASAA a secret! Share links to CASAA's Facebook page, groups, Twitter accounts and web site. Use links in CASAA's resource center for facts and science. Help CASAA build membership (it's still FREE to join) and add to our collective voice for consumers. The more members CASAA has, the stronger it becomes!
State Legislative Information
Contact information for the Governor, Senate, and House of Representatives
Governor
Phil Bryant
P.O. Box 139
Jackson, MS 39205
Phone Number: (601) 359-3150
Fax: (601) 359-3741
The Senate
Secretary of the Senate
Secretary of the Senate
313 New Capitol Building
Jackson, MS 39201
Phone Number: (601) 359-3202
The House
Clerk of the House
Andrew Ketchings
House of Representatives
New Capitol Building
400 High Street Suite 305
Jackson, MS 39201
Phone Number: (601) 359-3360
Mississippi Laws & Taxes
Smokeless Tobacco & Vapor Products
Laws
It shall be unlawful for any person, or retailer, to sell, barter, deliver or give tobacco or vapor products to any individual under eighteen (18) years of age.1
No person under eighteen (18) years of age shall purchase any tobacco or vapor product. No student of any high school, junior high school or elementary school shall possess tobacco on any educational property.1
Mississippi's Clean Indoor Air Act has not been amended to prohibit the use of vapor products where smoking is prohibited.
The following municipalities have ordinances that prohibit vaping where smoking is prohibited (some exclude bars and restaurants): Alligator, Anguilla, Arcola, Artesia, Baldwyn, Bassfield, Belmont, Beulah, Brandon, Bruce, Byram, Calhoun City, Centreville, Charleston, Clinton, Coahoma, Coahoma County, Courtland, Crawford, Cruger, Diamondhead, Drew, Duck Hill, Duncan, Durant, Eden, Edwards, Ellisville, Ethel, Farmington, Fayette, Florence, Flowood, Forest, Friars Point, Fulton, Georgetown, Glendora, Heidelberg, Holly Springs, Houston, Indianola, Isola, Itta Bena, Iuka, Lexington, Louise, Louisville, Lula, Lyon, Magee, Mantachie, Mendenhall, Monticello, Moorhead, Nettleton, New Augusta, Oakland, Petal, Pickens, Pittsboro, Plantersville, Prentiss, Quitman, Renova, Rolling Fork, Roxie, Saltillo, Sebastopol, Shaw, Shubuta, Sidon, Sledge, Southaven, Starkville, State Line, Summit, Sumner, Tupelo, Tutwiler, Utica, Walnut, Walnut Grove, Webb, Weir, Wesson, Woodland, Woodville, Yalobusha County
Tobacco/Vaper 21 Laws: Adams County
Flavor Bans: None
Taxes
Smoke-free tobacco products are subject to a state excise tax of 15% of the manufacturer's price.2
Vapor products do not have an additional state excise tax.
Sources
1. http://www.ago.state.ms.us/wp-content/uploads/2013/09/MS-Laws-Governing-Tobacco-and-Minors.pdf
2. https://www.salestaxhandbook.com/mississippi/tobacco
Updated February 2019
National Calls to Action
If no results are shown in the box below, there are no current National Calls to Action. Click here to go to our Calls to Action page.
Not Found
Apologies, but the page you requested could not be found. Perhaps searching will help.
National Legislative Information
Contact information for the Executive, Senate, and House of Representatives
The White House
President of The United States
1600 Pennsylvania Avenue NW
Washington, DC 20500
Comments: (202) 456-1111
Switchboard: (202) 456-1414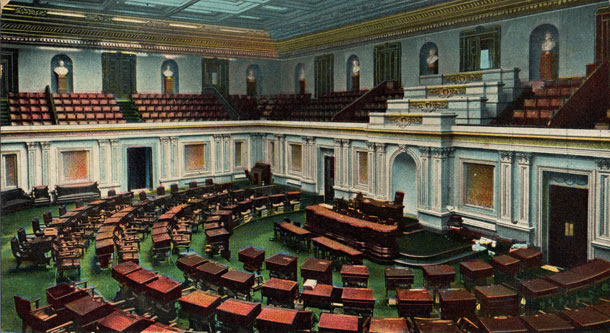 The Senate
The United States Senate
The United States Senate
Washington, DC  20510
Switchboard: (202) 224-3121
The House
The United States House of Representatives
United States House of Representatives
Washington, DC 20515
Switchboard: (202) 224-3121
 Archived Calls to Action (Ended)
If no results show in the box below, there are no previous Calls to Action for your state.
ENDED: Last night (Tuesday, October 3rd), the Board of Alderman heard arguments opposing the indoor vaping ban proposal. Ultimately, the board voted 6-0 to adopt the ordinance, but there was serious discussion prior to the vote about amending the law to allow for vaping in stand-alone vapor shops. In the future, the board may be amenable to changing the ordinance to …
Read More »